Next events: to be booked by email to info@liberte-et-prospective.fr
TUESDAY JANUARY 25, 2022 from 7:30 p.m. to 8:30 p.m.
conference and video on What is OSINT?
Open Source Intelligence or Open Source Information
David G. DENIEL, Digital Director of the Think Tank
led by Laurent GOYCHMAN, Head of innovative projects and the Economic Intelligence workshop of the Think Tank
House of associations from the 8th to 28 rue Laure Diebold • 75008 Paris
video link google meet:https://meet.google.com/kxf-hupw-out
or by phone dial: (FR) +33 1 87 40 34 26 CODE: 631 024 783#
PAST EVENTS :

FRIDAY JANUARY 14, 2022
Video conferencing on
Rationality : In 2022, in the current health, environmental and economic issues, are we too or not rational enough?
Vincent CHAMPAIN, Company manager in innovation
Founder Think Tank long term strategies: https://longterme.org/
registration link: https://youtu.be/UW-ywXEfOk4
THURSDAY, DECEMBER 16, 2021 at 7:30 p.m.
Afghanistan
Faisal AMINOLLAH, Consultant International Institution, Geneva
Soukria HAIDAR, President of NEGAR Supporting Women of Afghanistan
THURSDAY, DECEMBER 9, 2021
EUROPE and the French Presidency
dinner debate at the SÉNAT restaurant
with Philippe DOMINATI, Senator,  Stéphanie KERBARH, députy
Joséphine STARON, Director of Studies & International Relations, Synopia
THURSDAY, NOVEMBER 18, 2021
Science, progress and social issue
THURSDAY, OCTOBER 21, 2021 at 7:30 p.m.
Water
THURSDAY, OCTOBER 7, 2021 from 7 p.m. to 9 p.m.
Daniel Adrien DONET-MONNAY, CEO Vici Swiss Competitive Intelligence
The power of information and your personal data
Tuesday September 21, 2021
Exceptional general meeting board election
THURSDAY, SEPTEMBER 16, 2021
Cryptocurrencies
by our active member Guilhem de Rooyesteyn
business development and marketing RUBIC (RCB)
https://www.linkedin.com/in/guilhemwr/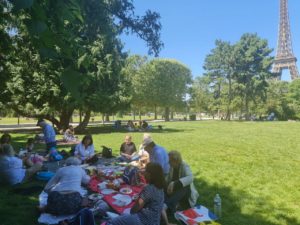 Sunday, July 18, 2021
Picnic
Thursday July 1, 2021
a small aperitif, reunion workshop, recovery, brainstorming
TUESDAY 22 JUNE 2021 at 7:30 p.m. Videoconference
Freedom of expression in the digital age
Philippe Thibault du-MANOIR-de-JUAYE
lawyer at the Court, specialist in Economic Intelligence
WEDNESDAY, JUNE 3, 2021  Visio – debate
Western humanism
Sidney TOUATI, lawyer
chaired by Bénédicte de FAULTRIER, Think Tank communications officer & Guylain CHEVRIER, Think Tank Strategic Committee director
THURSDAY, MAY 27, 2021  Videoconference
Restoring the link between Justice & Democracy
With Hervé Moreau, Captain of the Gendarmerie, author of "Truth of a Captain" published by Guy Boulian.
led by General Gendarmerie (2S) Jean-Louis ESQUIVIÉ
and Jean-Michel ISSAKIDIS, Director of Environmental Action of the Think Tank
THURSDAY, APRIL 29, 2021Videoconference
Debt, what solutions after COVID-19?
Philippe ZAOUATI, Managing Director of Mirova (NATIXIS subsidiary), co-founder and president of "Osons le Progrès"
José GIANNESINI, Vice-president of the Think Tank
Animation David SAAB and Charles ECALLE, financial advisers
WEDNESDAY, APRIL 21, 2021 at 7.15 p.m. Videoconference
« Waste of today, Raw materials of tomorrow? »
By Madame Véronique Coté-Millard
Ile-de-France Regional Councilor
President of ORDIF
(Ile-de-France Regional Waste Observatory)
www.ordif.com
moderated by Jean-Michel Issakidis
Think Tank Environmental Action Director
video-meeting of the Board of Directors (founders and elected officials)
extended to potential future candidates
Wednesday April 14, 2021 from 7:30 p.m. to 8:30 p.m.
in order to prepare face-to-face for June or September 2021
an ordinary General Assembly to renew the Board of Directors
and the office after 3 years according to the statutes
THURSDAY APRIL 1, 2021  Videoconference
What can we say about the Democratic Republic of Congo today?
An International Expert-Consultant, Administrative, Democratic and Territorial Governance, International Aid Coordination Specialist and Partner Coordination Group – United Nations – RD Congo, Kinshasa
THURSDAY MARCH 25, 2021 videoconferencing
Survey « Environment & green finance »
Survey : https://www.mazars.fr/Accueil/Insights/Publications-et-evenements/Etudes/Les-dirigeants-face-a-la-neutralite-carbone
Cabinet MAZARS, independent organization for auditing, consulting and business services,
moderated by Jean-Michel ISSAKIDIS, Director of Environmental Action of the Think Tank
WEDNESDAY MARCH 17, 2021 Video conference
Digital security in the era of 5G?
Introduction Jérôme NOTIN, Managing Director https://www.cybermalveillance.gouv.fr/
Jean-Michel LAFINE, Security and Network Pre-Sales Manager, SFR
Raphaël MARICHEZ, CSO Southern Europe, Cybersecurity & Digital transformation advisor, Palo Alto Networks
Gwenael ROUILLEC, Cyber ​​Security Director, HUAWEI
Olivier DALOY, DSSI FAURECIA
Moderator: Fabrice COUSSY, Central responsible for the security of information and communication systems at the Ministry of Justice
Organization Stéphanie TUCOULET, Deputy Digital Director of the Think Tank
THURSDAY, MARCH 11, 2021  Videoconference
Economic Intelligence : « What vision and horizon for a sovereignty strategy« 
Daniel HABER, ESCP, IEP de Paris, Doctor of Economic Sciences, President of France Pacific Consultants,
Philippe CLERC, Expert Advisor Studies and Foresight, CCI France, President of the economic intelligence academy 
Loïk Le FLOCH PRIGENT, Energy consultant, at Llfp
hosted by Laurent GOYCHMAN
THURSDAY MARCH 4, 2021  Videoconference
Youth : « What state of mind do young people have about their future« 
hosted by Alexey MAYOROV & Stéphanie TUCOULET
WEDNESDAY FEBRUARY 17, 2021
Video conferencing What is green finance?
introduction Jean-Michel ISSAKIDIS, Director of Environmental Action of the Think Tank
Grégory CHEREAU, asset manager at BNP Paribas Asset Mangement
Animation José GIANNESINI, Vice President of the Think Tank
THURSDAY 4 FEBRUARY 2021
Environment and green finance workshop
moderated by Jean-Michel ISSAKIDIS
TUESDAY, FEBRUARY 2, 2021 Workshop
What cybersecurity for 5G?
with the units that implement it SFR, Huawei, Palo-Alto Networks, cybermalveillance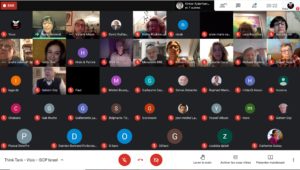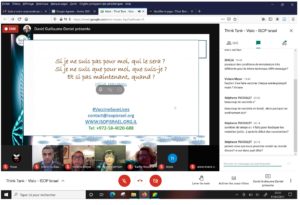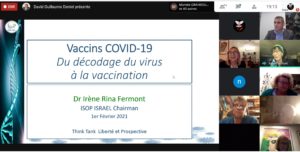 MONDAY, FEBRUARY 1, 2021 videoconference
COVID: from decoding the virus to vaccination
by Doctor Irène Rina FERMONT,
Immuno-Hematologist, president of ISOP ISRAEL http://www.isopisrael.org.il/
(Israeli Chapter of the International Society of Pharmacovigilance)
COVID vaccine-from decoding to vaccination-01-02-21
Presentation: Ms. Viviane MEYER, Deputy Director of the Strategic Committee
Moderator: Doctor André CELERIER, vascular medicine
Organizer Mr. David G. DENIEL, Digital Director of the Think Tank
THURSDAY 28 JANUARY 2021 videoconference
the social and solidarity economy
by José GIANNESINI, Vice-President of the Think Tank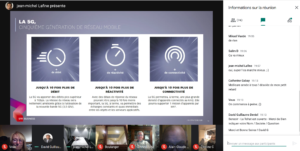 TUESDAY, JANUARY 19, 2021 visioconférence
5G project & protections
Jean-Michel LAFINE, SFR Security & Network Pre-Sales Manager (Industry & Transport) led by David DENIEL
Monday 11 january 2021 visio Unaccompanied minors
with the judge Genevière LEFEBVRE
led by Nissaf GUENANIA & Bénédicte de FAULTRIER
Thursday 10 December 2020  preparatory visioconférence workshop
radicalization in companies
hosted by Guylain CHEVRIER, Think Tank Strategic Committee director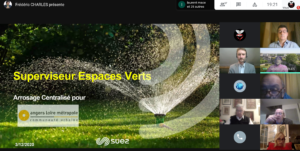 Wednesday 9 December 2020  visioconférence
digital innovation for the climate
hosted by David DENIEL & Jean-Michel ISSAKIDIS
Management of green spaces in the city of Anger Frédéric Charles, Directeur Stratégie Digitale & Innovation de Suez Smart Solutions
Corporate Social Responsibility (CSR), mission to the Comex François Garreau, Generali
The Carbon Transition Guillaume Gazaignes, Ex-Directeur Innovation & RSE SNCF Logistic
Projets et Technologies Bio-Based Materials for Packaging Shaul Lapido, CEO Melodea Melodea_Presentation
Renewable Energy Production and Citizen Mobilization Laurent Macé, Association ENERG'IES
Agro-ecological farms in urban areas  Claudio Muskus, Cultures et Compagnies Cultures et Compagnies Présentation
Thursday 3 December 2020 videoconference
the right of asylum by Janine STERN, judge
moderated by Bénédicte de Faultrier
Monday, November 30, 2020 workshop
5G
hosted by David DENIEL and Marc CARRE
Wednesday 25 November 2020  preparatory visio-conference workshop
« digital actors for the climate »
led a MEET-UP group
Wednesday November 18, 2020 workshop proposal of law
SECURITY & JUSTICE
led by General (2S) Jean-Louis ESQUIVIE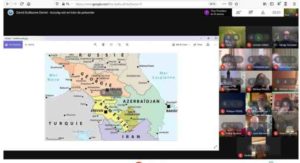 Monday, November 16, 2020  videoconference
« Nagorno-Karabakh: between war and peace »
Sévag TOROSSIAN, lawyer at the Paris Bar and at the International Criminal Court
with the exceptional participation of Hovhannes IGITYAN, deputy and vice-president of the international committee of the Armenian Parliament
Moderators: Nathalie LEVASSEUR BOUQUET, lawyer at the Paris Bar , Director of Legal and Public Affairs of the Think Tank
Vahagn MOVSESYAN, doctorate Ph.D in economics and management, international expert in real estate
report
Short history of Nagorno-Karabakh FR-ENG 2020
Thursday 12 October 2020  visio workshop Authority
under the direction of Stéphanie TUCOULET, Vivianne MEYER and Nadia RICO
Visio debate The Citizen and Terrorism
WEDNESDAY, OCTOBER 21, 2020 At 7:30 p.m.
under the direction of General (2S) Jean-Louis ESQUIVIE
Visio conference Authority
TUESDAY OCTOBER 27, 2020 At 7:30 p.m.
TUESDAY SEPTEMBER 29, 2020 Visio conference
Cyber threats
Why 5G?
Friday July 3, 2020 Video workshop « Police / Gendarmerie & Justice »

Thursday, June 11, 2020 POST-CRISIS videoconference
BE HUMAN animated by Mélanie PAULI-GEYSSE
Kaleidoscope by General (2S) Jean-Louis ESQUIVIE
To Be or Not to Be by Gilles NORROY
WENESDAY, MAY 27, 2020 at 7:00 p.m. VISIO POST-CRISIS
Territory Marc CARRE
Education Bénédicte de FAULTRIER
THURSDAY, MAY 14, 2020  VISIO POST-CRISIS
Introduction Guylain CHEVRIER and Viviane MEYER
Crisis communication Marc CARRE
Economic sovereignty José GIANNESINI
Industry 4.0 Henriette CAUX
WEDNESDAY APRIL 29, 2020
videoconference-debate « POST-CRISIS summary of proposals « 
TUESDAY, APRIL 16, 2020 videoconference  POST-CRISIS

TUESDAY, MARCH 5, 2020
Universalism: a choice of society faced racialism and communitarianism
Gilles Denis, Lecturer-HDR in History and epistemology of life sciences, University of Lille, Coordination « Vigilance universities »
on « The situation of the French University facing the rise of racialist theses »
Djemila Benhabib, political scientist and writer, taught geopolitics of the Middle East in Quebec. A specialist in political Islam, she is also interested in multiculturalism, « reasonable » accommodation and secularism. Since September 2019 she has been working in Brussels at the Belgian Center for Secular Action on
« Multiculturalism: theoretical approach and experiences »
Guylain Chevrier, Doctor of history, trainer and academic. Former member of the Secular Mission of the High Council for Integration, Vice-president of the Secularism Republic Committee. Director of the strategic committee of the think tank « Liberté et prospective » on
« Where does the racism of the new » anti-racists « come from? Multiculturalism against the egalitarian Republic? »
moderated by the journalist of Marianne Etienne Girard
TUESDAY, MARCH 3, 2020 Ordinary general meeting
TUESDAY FEBRUARY 4, 2020 Dinner-debate
Radicalization in sport Médéric CHAPITAUX
THURSDAY JANUARY 23, 2020 Dinner-debate
Digital and citizen cyber defense
Isabelle RAIMOND-PAVERO senator and
Franck PAVERO cyber defense officer
WEDNESDAY, JANUARY 15, 2020 m.
Radicalization in the company
moderated by Guylain CHEVRIER, university teacher
Thursday 28 November 2019 SENAT
The company at the heart of contemporary and republican issues
Philippe DOMINATI Sénateur , Sylvian MAILLARD Député, Nathalie HARISSON et Stéphanie MENDEZ co-founders of the company PROSECUR
Tuesday 19 November 2019 Security Cooperation
Nicolas GOUZIEN, liaison officer  New-York Police Department (NYPD)
Daniel RĂUCEA, liaison officer  Roumania police In France
Stéphanie TUCOULET, Secretary General of the National Alliance of Integrators of secure connected connected technologies (ANITEC)
Wednesday November,6, 2019 National Assembly  The elected defenders of the values of the Republicfacing radicalization
Introduction by Member of Parliament Laurianne ROSSI
1st round table: Prevention of radicalization
Eric DIARD, MP report « public services face radicalization »
Marianne DURANTON, Regional Councilor Ile de France
Rachid BENZZINE, Islamologist
moderator: José GIANNESINI, Vice-Président Think Tank
2nd round table: Education for the values of the Republic
Éric POULLIAT, MP report « public services face radicalization »
George FENECH, former MP,
Magali CROCHARD, teacher and researcher in sociology
Guylain CHEVRIER, university teacher
moderator: François CHAUVANCY, general (2S)
Thursday 10 October 2019 Grand Paris, which governance?
Pierre-Yves BOURNAZEL, Member of PARIS, Councilor of PARIS LR-AGIR
Philippe LAURENT, Mayor of Sceaux and Secretary General of the AMF
Daniel-Georges COURTOIS, Paris Councilor, Vice-President Paris-Métropole
Cetty LEFEBVRE, former local elected Villemomble (92)
José GIANNESINI, Vice President of the Think Tank
Tuesday, September 17, 2019 Immigration, what is it really?
Alain SEKSIG, Inspector General of National Education, Former Coordinator of the High Council for Integration

Sunday 25 august 2019 Picnic
Sunday 21 july 2019 Picnic
Tuesday 18 June 2019 « THE DIGITAL REVOLUTION« 
Charlotte FILLOL, senior lecturer in management at the Université Paris Dauphine
Franck PAVERO, Telecom officer defense and electronic warfare
Philippe CHANTEPIE, researcher and Inspector General of Cultural Affairs
and author of « digital revolution and cultural industries »
Jean-Claude LAROCHE, Director of information systems at ENEDIS (ex FEDER)
animator Magali CROCHARD, teacher, consultant management digital transformation
TUESDAY 14 MAY 2019
General Assembly-presentation of our actions-cocktail
Workshop Monday 13 may 2019 « Radicalisation in education »
animated by Magali CROCHARD and Jean-Pierre OBIN
 Monday 29 April 2019 « Radicalisation in sport »
Magali CROCHARD and Médéric CHAPITAUX
TUESDAY 9 APRIL 2019  « BELIEFS and Republic » RETEX Conference BELIEFS and REPUBLIQUE 2019
Florence BLONDON, Protestant pastor
Rachid BENZINE, islamologist, political scientist, researcher associated with Paul Ricoeur Fonds
Guy BENHAROUSSE, Rabbi, French Association of victims of terrorism (AfVT)
Louis-Marie COUDRAY, Catholic priest
Moderator Magali CROCHARD and Sophia ELIAS

TUESDAY 12 MARCH 2019 « Integration through sport » RETEX SPORT Conference
Jean-François LAMOUR, former Minister of sports
Dominique CROCHU, Ambassador for the Rugby World Cup 2023 in France
Sylvère-Henry CISSE, journalist and President of « sport and democracy »
TUESDAY 19 FEBRUARY 2019  Decide. of its future as a European citizen  »
Click to read the summary: RETEX EUROPE Conference
Ursula SERAFIN, Director of the Maison de l'Europe de Paris
Alain LAMASSOURE, MEP, former Minister
Claude WARNET, Honorary economic and financial Comptroller General
Moderator José GIANNESINI, Vice-President think tank
Introduction: prospects for Europe what future for Europe
Workshops Monday, February 4, 2019 and Monday, March 18 2019
« The elect in the face of radicalisation«   Gilles NORROY
Wednesday 23 January 2019 and Tuesday 5 March 2019
« Radicalisation in business » animators Guylain CHEVRIER and Ismail
MONDAY 14 JANUARY 2019
« Radicalisation and de-radicalisation in prison, what solutions?« 
Dany MONT, prison administration officer, co-founder think tank
Introduction: radicalisation and de-radicalisation in prison-what solutions
Monday 10 December 2018 « sectarian drift« 
Anne-Marie COURAGE, interministerial mission of vigilance and control of sectarian drift (MIVILUDES) Introduction sectarisme
Tuesday, November 13, 2018 « after 35 years of city politics, do we have to change everything? »
Click to read the RETEX synthesis political Conference of the city
Laurianne ROSSI, MP and quaesor (https://fr.wikipedia.org/wiki/Laurianne_Rossi),
Olivier KLEIN, Mayor of Clichy, President ANRU (https://fr.wikipedia.org/wiki/Olivier_Klein),
Michel CHAMPREDON, former Mayor of Evreux, (https://fr.wikipedia.org/wiki/Michel_Champredon),
Karim BOUHASSOUN, political adviser (https://www.editions-harmattan.fr/index.asp?navig=auteurs&obj=artiste&no=33485), author of « what the suburbs wants« ,
Moderator Luc SITTER, entrepreneur.
Tuesday 16 October 2018 « BELIEFS and Republic« 
Click to read the synthesis RETEX Conference BELIEFS and Republic
Sylvie GOY-CHAVENT, Senator (https://fr.wikipedia.org/wiki/Sylvie_Goy-Chavent),
Philippe FOUSSIER, former Grand Master of the Grand Orient of France, on « secularism and freedom of conscience »,
Guylain CHEVRIER (https://www.agoravox.fr/auteur/guylain-chevrier), on « religion, philosophy, reason« ,
Moderator Laurence TAILLADE, President of secular forces.
MONDAY 10 SEPTEMBER 2018
« The criminal law, brake or motor of the anti-terrorist fight? »
Marc LIFCHITZ, magistrate and Deputy Secretary General of the Union magistrates unit SNM-FO, to see it click on the link http://www.europe1.fr/societe/reforme-penale-la-solution-cest-la-creation-de-15000-places-de-prison-3592262
TUESDAY 5 JUNE 2018
« Man and technology at the heart of politico-religious proselytism« 
Click to read the synthesis RETEX Cyber-Jihad Conference
Georges MALBRUNOT, French journalist, Middle East specialist
Marc HECKER, doctor of political science and researcher at the IFR
Franck PAVERO, Telecom officer defense and electronic warfare
MONDAY 14 MAY 2018
Mary MONE (UNESCO) and Jean-Jacques ROCHE (IHEDN-
« violence in the world« 
MONDAY, APRIL 9, 2018
Denis MAILLARD
When religion invites itself into the business
MONDAY 12 MARCH 2018
Radicalisation and trade unions
MONDAY 12 FEBRUARY 2018
Cyber radicalization
MONDAY 29 JANUARY 2018
Radicalisation in business